YOU
You are who you are, and you are welcome. We're massively pleased to welcome all sorts of folk as regulars and visitors. Happy for (good) dogs to be here and, though The Hop Inn isn't a 'family pub', kids are welcome. As restrictions end on 19th July, we return to the traditional pub way of doing things – bar service. We'll keep the bar free of bar stools, so that you can order your drinks with a bit more social distance. Hand sanitiser and check-in are still available. Wearing a mask when you move about is a good idea, as well as respecting others' distance. Cheers!
In December 2020 we launched a crowdfunder appeal called 'Help the Hop' and, incredibly, raised over £11,705. This enormous generosity has been quite overwhelming. It helped pay the rent during Lockdown, and allows us to adapt to ever-changing restrictions – and it will enable us to continue to be a central part of the Old Town Swindon community. Thank you, one and all.

US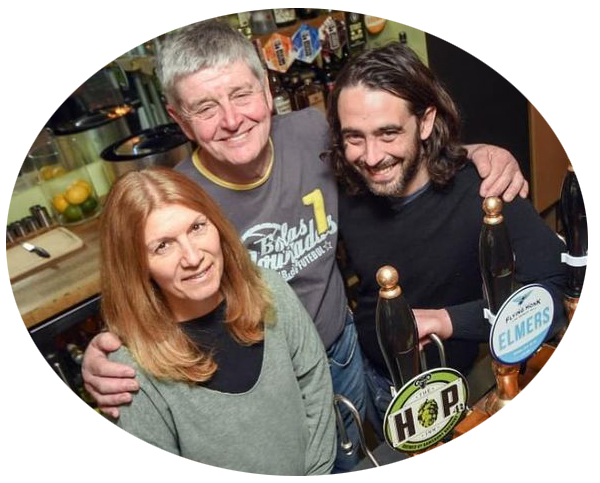 Joined by Ben Putt in 2019, The Hop Inn was established by Jason and Karen Putt in October 2012 when they bid farewell to their nursing and sales careers. Within a year they'd won a CAMRA award.
We've got a long-standing bar team, with many beer aficionados amongst them who are happy to offer plenty of advice on choosing your tipple.